'I Will Die On This Hill' invites autistic adults, parents, care providers, and community members to work towards building a more accepting and inclusive community for disabled children; now and throughout the lifespan.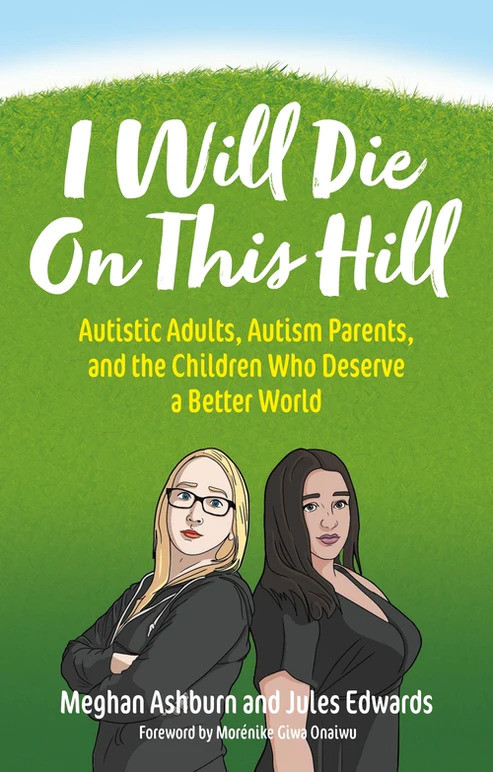 IWDOTH Book Cover Image
I Will Die On This Hill: Autistic Adults, Autism Parents, and the Children Who Deserve a Better World
VIRGINIA BEACH, Va. - January 18, 2023 - (
Newswire.com
)
Meghan Ashburn (Not An Autism Mom) of VA and Jules Edwards (Autistic, Typing) of MN co-authored a book titled I Will Die on This Hill: Autistic Adults, Autism Parents, and the Children Who Deserve a Better World, releasing Jan. 19 by Jessica Kingsley Publishing.
Ashburn is a former teacher and works as an educational consultant. Edwards is an Indigenous disability justice advocate and consultant. Edwards is newly appointed to serve on the National Institutes of Health Autism Centers of Excellence advisory board.
This bold new book promises a refreshing look at caring for autistic children, and provides dynamic insights into creating a better world for the estimated 1 in 44 children diagnosed with autism. With a focus on intersectionality, the book features eleven additional Autistic contributors throughout, including nonspeaking/AAC users and BIPOC Autistic advocates from around the world.
"I Will Die On This Hill is such a gift for all of us who have been clueless and way too speculative and assuming about autism," writes Marcie Alvis Walker, creator of Black Coffee with White Friends. "Ashburn and Edwards' honest and unsentimental book will make you a better human being and, therefore, a better neighbor, better educator, better family member to Autistic adults, Autism parents, and the children who need us all to do better."
Ashburn and Edwards' new release shares the authors' collective wisdom gained through years of parenting and advocating for disability justice. The authors were inspired to write the book they wish had been given when their children were first diagnosed. I Will Die On This Hill challenges the dominant narratives surrounding autism and invites readers to take action. 
Dr. Mona Delahooke, author of Beyond Behaviors, writes, "This is the book I've been waiting for to recommend to parents and all childhood providers." Educators, professionals, physicians, and care workers will all gain new insights into supporting autistic children. 
A book launch celebrating I Will Die On This Hill will be held Thursday evening, Jan. 19, 2022, at the Guthrie Theater in Minneapolis, Minnesota.
Book Information and press kit:
https://autistictyping.com/i-will-die-on-this-hill 
Book Launch Event:
https://www.eventbrite.com/e/i-will-die-on-this-hill-book-launch-party-tickets-484816588467
Scheduling for Interviews/Press Inquiries:
https://calendly.com/i-will-die-on-this-hill
Press copy available upon request.
Contact Information:
Meghan Ashburn
Author
[email protected]
Jules Edwards
Author
[email protected]
6122003765
Press Release Service by
Newswire.com
Original Source:
Powerful New Book Offers a Refreshing Look on Autism, Co-Authored by Autistic, Typing and Not an Autism Mom
Lifestyle - Trend Magazine originally published at Lifestyle - Trend Magazine