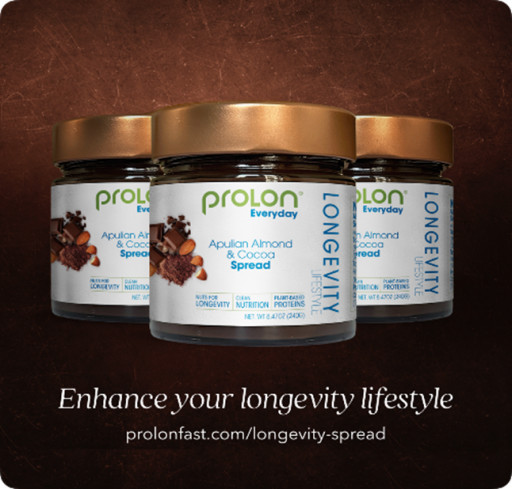 First product to the market from the 'ProLon EveryDay' product line is the L-Spread, rich in Longevity Nuts sourced from Italy's Longevity Area and formulated based on the Longevity Diet by Dr. Valter Longo.
LOS ANGELES, May 9, 2023 (Newswire.com) - L-Nutra Inc., the world's leading nutrition technology company pioneering the discovery and commercialization of novel nutrition products that impact both the body's metabolism and cellular rejuvenation, announces today the launch of a new pipeline of nutrition called 'ProLon EveryDay'.
ProLon EveryDay is the result of 30 years of research to identify foods and ingredients from around the globe that taste great; can be consumed every day; are consistently associated with improved health, disease reduction and longevity extension; contain no toxins; and have minimal impact on the environment and carbon emission. The ProLon Everyday ingredients and foods are based on pre-clinical, clinical and epidemiological studies as well as on studies of the diets of populations with record longevity.
The first product to market under this new line of Nutrition is the L-Spread which contains 74% almonds, a major Longevity Nut that is consistently correlated with healthy human longevity. Scientific studies show that daily consumption of almonds may lower risk of mortality, notably from cardiovascular diseases and cancer. The L-Spread is based on a precision nutrition formulation developed by Dr. Valter Longo, head of the Longevity Institute at University of Southern California and selected TIME Magazine's top 50 most influential people in Health. The Longevity nutrition formulation aims at controlling factors associated with biological aging such as insulin and IGF. The L-Spread contains plant-based proteins, healthy fats and low sugar. It is Gluten-Free, Soy-Free, Vegan, and Non-GMO.
"We searched around the world for great tasting almonds produced in an area with record longevity and decided to source from the Longevity Area of South Italy known for its thriving centenarians", said Dr. Joseph Antoun, M.D., Ph.D., CEO, and Chairman of L-Nutra Inc.
"The L-Spread is based on a Nutrition For Longevity Formulation that Dr. Valter Longo researched for 30 years at USC's Longevity Lab and published in the Longevity Diet book and a Cell 2022 article," said Dr. Will Hsu, M.D., Chief Medical Officer at L-Nutra Inc.
The L-Spread is sold primarily on ProLon's website: https://prolonfast.com/products/longevity-spread
About L-Nutra Inc.
L-Nutra is leading the discovery, design, and commercialization of novel nutrition products and programs with the mission of adding more life to human life. Current commercial products focus on wellness and healthy aging, including ProLon® 5 Day Fasting Mimicking Nutrition the first and only clinically tested, five-day fasting nutrition program designed to allow your body to enter a fasting state while still consuming nutrient-dense foods. L-Nutra also created the 1-day fasting nutrition kit ProLon Reset

, ProLon Intermittent Fasting Bar®, the first nutrition bar specifically designed and clinically tested to support intermittent fasting and ProLon Fasting Shake, the first drink tested to keep the body in fasting mode. Nutrition for Longevity® is L-Nutra's science-backed, chef-curated meal program, featuring farm-to-table meals formulated to address the nutritional deficiencies in today's commercially grown produce. For more info, visit https://l-nutra.com/.
Contact Information:
Joseph Antoun
CEO
[email protected]
Original Source:
L-Nutra Launches First-of-Its Kind Longevity Nutrition Product Line Called 'ProLon EveryDay'
The post L-Nutra Launches First-of-Its Kind Longevity Nutrition Product Line Called 'ProLon EveryDay' first appeared on TREND MAG.
Lifestyle - TREND MAG originally published at Lifestyle - TREND MAG