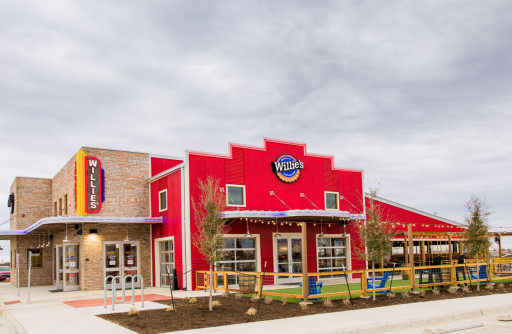 THE BELOVED TEXAS ICEHOUSE WILL CELEBRATE THREE DECADES OF GIVING BACK TO LOCAL COMMUNITIES WITH SPECIALS 30 YEARS IN THE MAKING

HOUSTON, December 4, 2023 (Newswire.com)
-
Willie's Grill & Icehouse, the brand that brings the classic icehouse experience to communities across Texas, is celebrating its 30th anniversary this year. The brand will celebrate throughout December with a discount that harkens back to the origins of the icehouse, as well as a commitment to continue their tradition of financially supporting communities across the state.  
The restaurant, known for its family-friendly atmosphere and icehouse classics, closes out its third decade of service with more than $1.5M in monetary donations to various charities and public services within the cities where the brand operates. 
Among the philanthropic programs are the Willie's Grill & Icehouse Spirit Nights, in which local community charities are given a portion of the proceeds from a specific day's overall sales. Their commitment to public servants is another important piece of the brand's mission, as seen through their community sponsorships. Throughout the year, Willie's Grill & Icehouse offers a 10% discount to first responders, teachers, firefighters, and nurses at all locations. Local law enforcement departments are also treated to 50% off their meals throughout the year at Willie's. During their grand opening celebrations, Willie's Grill & Icehouse hosts VIP soft openings where they invite educators, nurses, law enforcement, and other essential workers to dine for free throughout the day. Finally, all locations offer the Fire & Icehouse Lager throughout the year and a portion of the proceeds is donated directly to local fire departments. 
All Willie's customers are in luck throughout the month of December, as the brand is offering a Texas-sized discount on one of their original menu items. Every Monday, Tuesday, and Wednesday throughout December, Willie's will offer their original Cheese Willie Burger, the menu item that the brand was built on, for only $6.30 in honor of their milestone anniversary. The promotion, a 'thank you' to customers for their years of support, is valid for both in-store and online orders.
"We are thrilled to be celebrating 30 years of serving Texans our icehouse classics and welcoming families through our doors," said Greg Lippert, CEO of Willie's Restaurants. "Giving back to our communities has always been a pillar of who we are, and we look forward to continuing the tradition as the brand moves into our next era. We invite all customers to come and enjoy a delicious Cheese Willie Burger at a discounted price throughout December as a thank you from all of us at Willie's Grill & Icehouse."
Contact Information:
Rachel Austin
Publicist
Original Source:

Willie's Grill & Icehouse Celebrates 30th Anniversary Reaching Philanthropic Milestone of $1.5M
The post Willie's Grill & Icehouse Celebrates 30th Anniversary Reaching Philanthropic Milestone of $1.5M first appeared on TREND MAG.