Ease Kava Gummies and Heart Kanna Gummies Provide Organic Botanical Support for Relaxation, Comfort and Wellbeing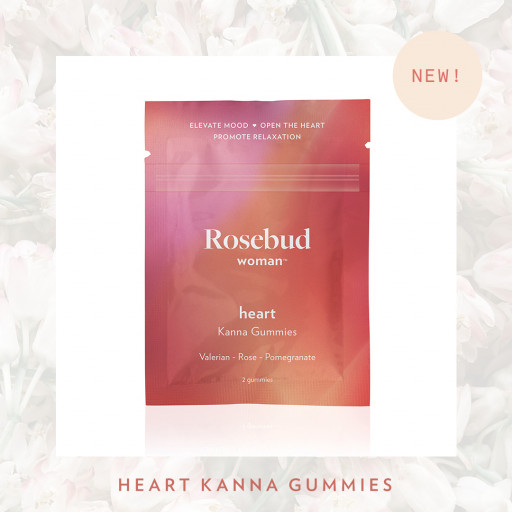 New! Heart Kanna Gummies
An image of Rosebud Woman's New Ingestible Wellness Offering Heart Kanna Gummies in and Pink and Gold Ombre Sachet
TRUMBULL, Conn., May 3, 2023 (Newswire.com) - Rosebud Woman, an innovator in women's intimate health and wellness, is proud to announce the expansion of their product line with the introduction of two new ingestible wellness offerings: Ease Kava Gummies and Heart Kanna Gummies. Designed to support full body wellness, these organic gummies combine the best of ancient botanical wisdom and modern scientific research to deliver effective, natural solutions for stress relief and emotional wellbeing. They represent a larger integration trend in beauty and in women's health toward combining topicals and botanical nutrition for optimal outcomes.
Ease Kava Gummies harness the power of kava, a plant native to the South Pacific known for its calming effects. By providing a healthy way to reduce stress and anxiety, these gummies aim to help users achieve a more balanced and relaxed state of mind. Each gummy contains a carefully measured dose of kavalactones, the active compounds in kava, to ensure maximum efficacy and safety.
Heart Kanna Gummies are formulated with kanna, a succulent plant indigenous to South Africa that has been used traditionally to alleviate stress, anxiety, and low mood. Rich in mesembrine, a natural serotonin-uptake inhibitor, these gummies work to enhance overall emotional wellbeing by promoting a positive mood and supporting mental resilience. They also contain Rose, Pomegranate and Valerian.
Both Ease Kava Gummies and Heart Kanna Gummies are made with high-quality, all-natural ingredients, ensuring that they are vegan, gluten-free, and free of artificial additives. As with all Rosebud Woman products, these organic botanicals have been created with a commitment to sustainability and ethical sourcing, aligning with the company's dedication to promoting holistic wellness.
"We are thrilled to introduce our new ingestible wellness offerings as part of our mission to support women's overall health and wellbeing," said Samantha Sleeper, President of Rosebud Woman. "With the launch of Ease Kava Gummies and Heart Kanna Gummies, we're providing our customers with effective, natural tools for managing stress and nurturing emotional wellness."
Ease and Heart are now available for purchase through the Rosebud Woman website, in 2 count and 10 count packages, and at select retailers nationwide. Rosebud Woman has also released two free educational booklets to accompany these products, All About Kava and All About Kanna. 
To learn more about these innovative wellness offerings and other Rosebud Woman products, visit www.rosebudwoman.com.
Contact Information:
Michelle Fetsch
VP Business Development
[email protected]
415-849-8613
Related Files
RBW-Kava-Booklet-4.5x6-040423-digital.pdf
RBW-Kanna-Booklet-4.5x6-040423-digital.pdf
Original Source:
Rosebud Woman Introduces Two New Ingestible Wellness Offerings
Beauty - Sexy Press originally published at Beauty - Sexy Press