Polish outfit Harine Films and German co-producer Heino Deckert have boarded She, the next fiction project from Polish producer-director Agnieszka Zwiefka.
The project has been developed by the European edition of The Writers Lab (TWL), the script development workshop for women and non-binary writers over 40 supported by Meryl Streep and Nicole Kidman.
"It's amazing the support they are giving. It was an amazing feeling of sisterhood, this lab," Zwiefka said. Her tutor was the Oscar-nominated Polish director Agnieszka Holland.
She is about a widowed 50 year-old woman who passes through life so seemingly unnoticed she doesn't show up on video surveillance systems.
"There are so many women who never even dare to ask themselves 'What do I want?'," the director says of the themes she is exploring.
Zwiefka is writing the script together with Polish actress Jowita Budnik, whose credits include Birds Are Singing In Kigali. Budnik will play the lead
"She is a good friend and also an actress of a certain age who has realised that there are not so many parts," the director said of her collaborator. "She felt she had to write the script herself if she was going to have a decent role and not just be a prop or a side character to the male hero."
The Polish Film Institute is backing the project which plans to shoot next summer.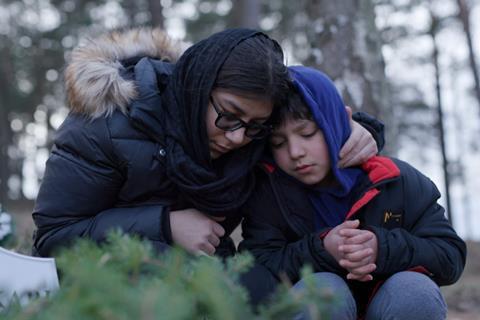 Zwiefka is at the Sarajevo Film Festival with her documentary, Runa, which was pitched in Docu Talents from the East earlier this week.
Runa is being made as a coproduction with Germany and Denmark. Zwiefka is producing alongside Zofia Kujawska of Chilli Productions, Deckert of Germany's MA.JA.DE. Filmproduktion, and Sigrid Dyekjær of Real Lava. The film follows a 16-year-old Iraqi Kurdish girl forced to hold her family together after her mother dies in a refugee camp at the Polish-Belarussian border. The family had fled to Europe to escape Isis.
Zwiefka discovered Runa's story when working as a volunteer aid worker. "When the refugee crisis started at our own border, we were really shocked. Many people devoted their free time to helping these refugees," she said. "We really felt it was our duty as documentarians to tell their stories."
The doc is in advanced post-production and should be ready by the end of the year. It is partly animated, "inspired by Persepolis by Maryjane Satrapi." Runa herself is a talented artist who drew extensively while in refugee camp.
Runa was one of the buzzy projects at Polish Days, the industry event for the Wroclaw-based New Horizons International Film Festival, that took place in July. 
This will be a hybrid doc in which "pairs of actresses in a film studio" will stage the conflicts from the mother and daughter's pasts.
"It is interesting how you can be an intellectual and still prone to this right-wing propaganda," the director observes of her mother who will co-direct. "This film is an attempt to understand but also to play with how we both see the events from the past." 
The film is in development and has Creative Europe and Polish Film Institute support inn place already.
Originally published at https://www.screendaily.com/news/agnieszka-zwiefkas-fiction-feature-she-finds-polish-and-german-co-producers-exclusive/5184967.article
ShowBiz - Show Biz clinic originally published at ShowBiz - Show Biz clinic