Filipino American comic book creators and special guests come together to give away a free digital comic book copy and promote tasty Filipino food and beverages at HiFi Kitchen on May 6, 2023.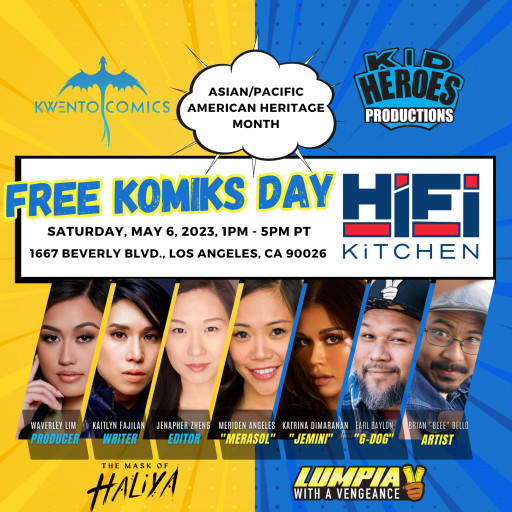 Free Komiks Day at HiFi Kitchen
HiFi Kitchen teams up with Lumpia With A Vengeance and Kwento Comics for Free Comic Book Day 2023
LOS ANGELES, April 27, 2023 (Newswire.com) - In celebration of Asian American and Pacific Islander Heritage Month, Kwento Comics will team up with Lumpia With A Vengeance to host "Free Komiks Day" at HiFi Kitchen in Historic Filipinotown on Saturday, May 6, 2023, from 1 p.m. to 5 p.m. The event will celebrate Filipino-American comic book creators and geek culture with exclusive content, special guests, and Filipino food.
Kwento Comics, the creators of The Mask of Haliya graphic novel series, will be releasing a free digital copy of Issue 1 of The Mask of Haliya. Co-founder and Chief Operating Officer Waverley Lim, head writer Kaitlyn Fae Fajilan, and editor/writer Jenapher Zheng will be in attendance.
Kid Heroes Productions, creators of the award-winning independent films Lumpia and Lumpia with a Vengeance, will be giving a free digital comic book from their book line expanding on the Lumpia universe. They will be selling limited copies of a HiFi Kitchen exclusive trade paperback with cover art by Brian "beee" Bello, featuring chef Justin Foronda with characters from the films. Cast members Katrina Dimaranan (Jemini), Earl Baylon (George), Meriden Angeles (Merasol), artist Brian "beee" Bello, and director Patricio Ginelsa will be in attendance. 
Kwento Comics and Kid Heroes Productions will have physical copies of their comics available for purchase, in addition to Free Comic Book Day exclusives. HiFi Kitchen will offer special "comic-themed" menu items in collaboration with both comic creators.
Attendees can RSVP on Eventbrite at https://bit.ly/3Natqe8.
About Kwento Comics
Kwento Comics is the first all-women, all-Asian comic book company highlighting Filipino and Asian mythology through the medium of graphic novels. Their stories aim to inspire young women everywhere as they follow our female heroines who learn to spark the warrior goddess within.
About Kid Heroes Productions: 
Kid Heroes Productions is a Los Angeles-based production company founded by Patricio Ginelsa that specializes in unique film/video/comic book projects. Lumpia With A Vengeance completed a remarkable theatrical release last fall after an unprecedented film festival and comic book convention circuit run. The film has spun off its own comic book series, published independently.
About HiFi Kitchen
Since 2018, HiFi Kitchen tests the boundaries of classic Filipino Angeleno dishes while strengthening FilAm representation in Historic Filipinotown of Los Angeles, CA. Chef and owner Justin Foronda set out to offer the comfort of home-cooked meals he was raised on while drawing inspiration from the local flavors of Los Angeles. Their menu is the product of years of taste testing and remixing, spanning a variety of dietary lifestyles with vegan & gluten-free options.
Contact Information:
Meriden Angeles
Head of Marketing, Kwento Comics
[email protected]
Hazel Lozano
Events Coordinator, HiFi Kitchen
[email protected]
Original Source:
Kwento Comics and Lumpia With A Vengeance Collab at HiFi Kitchen for Free Comic Book Day
ShowBiz - Show Biz clinic originally published at ShowBiz - Show Biz clinic