Longtime Residents are Providing Homeowners the Protection They Need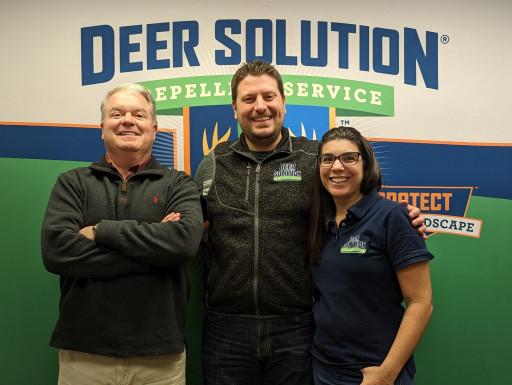 Keith Farfone (left), new owner of Deer Solution of the Lowcountry, poses with co-founders of Deer Solution, Kris (center) and Jaime (right) Goodrich.
CHARLESTON, S.C., May 17, 2023 (Newswire.com) - Local residents Keith and Regan Farfone are tackling the deer damage issue in the Lowcountry one property at a time. The Farfones recently launched their new business Deer Solution, a deer repellent service franchise that helps shield landscapes.
The Farfones explained the reason behind their choice. "So many things about Deer Solution appealed to us, but the most important one is we know that damage to shrubs from deer is a huge issue in our territory. The only known solution is installing plants that deer are not attracted to, which limits options when landscaping. We know firsthand from friends and family that maintaining a beautiful yard is next to impossible while combating the deer population. We are thrilled to be able to offer an affordable, all-natural solution to the problem."
Keith has lived in Charleston the majority of his life and has spent many years in the marine industry. Regan has worked as an event planner, and is currently a middle school English teacher. Both are excited to serve their community with exceptional service. 
The co-founders of Deer Solution, Jaime and Kris Goodrich, are delighted to have awarded their fourth franchise to the Farfones. Regan's attention to detail and Keith's experience in sales make them a great pair, according to Kris Goodrich. "These two will undoubtedly be able to create a successful business when you consider the quantity of deer damage that exists throughout South Carolina."
Deer Solution of the Lowcountry services customers in and around Charleston, South Carolina. Homeowners interested in service can call 888-503-8313 for a free estimate or visit the company website: www.deersolution.com.
About Deer Solution
Deer Solution is a locally owned and operated deer damage control business. Deer Solution's all-natural proprietary repellent is family, pet and environmentally friendly. Its pleasant-smelling repellent dries virtually clear and odor-free, and won't harm the plants or deer. For more information on Deer Solution repellent services for your home or workplace, visit www.deersolution.com. To find out more about the franchise opportunity, visit www.deersolutionfranchising.com.
Contact Information:
Jaime Goodrich
Brand Manager
[email protected]
908-448-2013
Original Source:
The Lowcountry Has the Solution to Deer Damage With New Deer Solution Franchisees
The post The Lowcountry Has the Solution to Deer Damage With New Deer Solution Franchisees first appeared on TREND MAG.
Lifestyle - TREND MAG originally published at Lifestyle - TREND MAG